How to Create Lovely Valentine's Day Videos
Valentine's Day is just around the corner, and we hope you're as excited about it as we are. Have you prepared a romantic present for your sweetheart yet? Getting a generic gift at the very last moment is a sure way to hurt their feelings. So, it's better to come up with more creative ideas while you still have time. How about creating a Valentine's Day video greeting?
Of course, there are tons of greetings online that you can share. But there's nothing like one made by yourself specifically for your sweetheart. Luckily, you don't need any editing skills to create a touching Valentine's Day video. With our ready-made templates, surprising your loved one is not nearly as hard as you think.
To give you some inspiration, we've created this sample video with one of our templates. Check it out below and follow our step-by-step tutorial to see how you can do it yourself.
Want to create your own Valentine's Day video? Let's get to our tutorial!
First, you'll need to sign in to your Renderforest account. If you don't have one, make sure to sign up before moving to the next step. Then, go to the "Create video" section and type "Valentine's Day" in the search box. Our advanced filters will help you find what you're looking for.
There is also a "Love Slideshow" section in the "Slideshow" category, so you can choose a template from there as well.
As you will see, there are many Valentine's Day templates available. Some of them enable you to create complete videos. Others, with the word "opener" in the title, are suitable for creating intros or short standalone animations.
Take some time to familiarize yourself with the templates and find the one that matches the video you have in mind. There's no need to click on each template for a preview. Just hover your mouse over the thumbnail, and the preview will start playing.
Whatever template catches your interest, click on it to read its description or get a closer look at the sample video.
Even if you come across a suitable template right away, it's useful to check out some others as well. You might get inspired and come up with new creative ideas.
Once you have picked your template, click on the "Create now" button. For the video above, we have chosen the template titled "Our love story".
First, click on the media holders to add photos and videos to the editor. You have several options to do it: upload them from your device, add a media file from your already uploaded files in "Media library", or post an image or video URL.
Adding a photo or video file of you and your sweetheart together will make the video more personal. However, if you need another photo for a certain scene, you can find it in the "Stock image" or "Stock footage".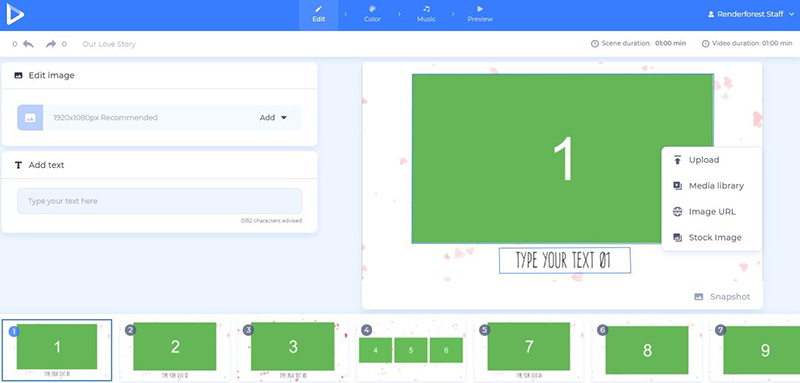 If you decide to choose a file from our stock, search for thematic keywords like "Valentine's Day", "romance", "love", etc. and select the image or video you prefer. Then click "Insert" to add it to your scene and move on to the next step.
All your added photos can be cropped, zoomed in, or rotated in the editor, so you don't have to do it beforehand. Also, there is an option for you to apply our filters to your photos, to add a vibe to them.
No Valentine's Day video is complete without a romantic message. Take a moment to think about your innermost wishes for your lover and type them in your text holder scenes.
Pay attention to the recommended character count in each field. Some are suitable for full sentences, while others are better for short phrases. With this in mind, you can break your sentences into parts, like we did in our video.
Once you have uploaded your images and have matched them with your text, it's time to add the favorite colors of your sweetheart to your video. To do so, go to the "Color" section of the toolbar at the top. Pick an existing palette or customize one if you'd like. But do make sure the text is readable with the color combo of your choice.
How about adding some music to your video now? Hopefully, you are well familiar with your loved one's musical taste and can find something to match it. Or maybe you have a song in mind that's special for both of you. In this step, you can browse our music library to find a suitable track or upload your own audio file.
You can make the video even more personal by adding a voiceover to it. Record a sincere and touching message and upload it to the editor. This way, you're guaranteed to move your beloved to tears.
Your video is ready. Click on the preview button to watch it in low resolution before exporting it in high quality.
There are several options to export your romantic Valentine's video. The first one is the free option, with which you can download your video in SD360 quality and with a watermark.
With the other "High quality" option you will be able to choose one of our paid subscription plans. See all the details about our pricing here.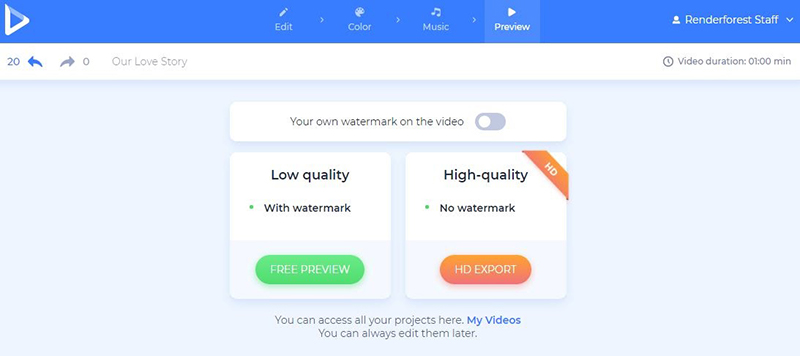 That's it! Happy St. Valentine's Day to you and your loved ones. Ready to create your own Valentine's Day video gift? Click the button below to start: